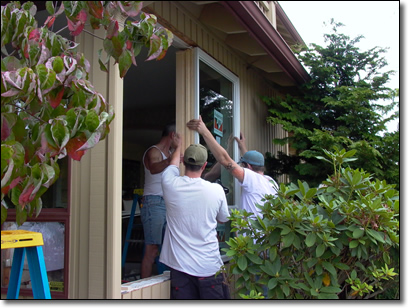 Our goal is to provide quality installations, service and customer satisfaction.
With many products to choose from, we will work with you to help you get into the installation and product best suited for your budget, and your home. 
When you want to replace old windows, leaky doors, or skylights, you don't want just anyone doing the work. After all, it's not just a house they will be working on, it's your home!
There are a lot of companies that replace windows, but many use unskilled laborers who are not adept carpenters. At The Window & Door Shoppe, all of our lead men are experienced carpenters.
Our company has specialized in wood window replacement for years, which requires much more skill and attention to details. There are primarily two ways to replace windows.
The first is the "screw and glue" method; this is done by pulling out the glass from your existing windows and cutting or collapsing the frame so that the nailing fins come out from behind the siding. The nailing flanges are cut off the new window and they are then screwed in place and caulked.

The second way is to cut back the siding from around the existing window and remove the old unit, nailing flange and all. The liners are cut back and the window is installed with the flange; trim is then installed around the new window over the flange and caulked. This last method is the best because with the flange you have a much better flashing around the new unit and are not relying on just a caulk bead to keep the weather out.
We can also replace the existing liners (inside wrap) with new materials, add stools and new casing to totally change the inside appearance of the window and enhance the interior of your house.
Wood and clad wood windows are installed in this manner. You can give your home a beautiful new look at a fraction of the cost of remodeling, and you will start to save heating costs right away! Whether you use wood, clad wood, vinyl, fiberglass or aluminum frames, a cookie cutter approach to installation is not appropriate; each customer's house and installation are unique.  We will take the time to discuss your particular needs and how you would like the finished work to look. You will love what we can do for your home!
Our window and door replacement areas are: Edmonds, Lynnwood, Seattle, Mountlake Terrace, Mill Creek, Mukeltio, Everett, Bellevue, Shoreline, Redmond, Bothell, Lake City, Kenmore, Woodinville, Snohomish and surrounding areas.
Call Today For A Free Estimate!
425-771-9421