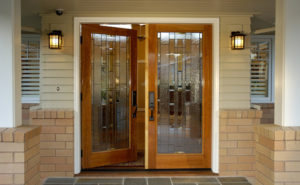 We are proud to sell many different wood door lines, from several different manufactures.
One of the greatest appeals of wood, is the fact that no two pieces look exactly the same! You're not stuck with the "cookie cutter" feel left by other, more uniform building materials. Grain patterns and color vary widely, adding texture, warmth and personality.
We have several different styles of door panels, sticking's, and glass that we can incorporate into just about any wood species. From standard doors to custom, we've got you covered.  Below are just a few examples of the types of wood species we can supply! For door styles and design ideas, please refer to the online catalogs at the bottom of this page.
Below are some online catalogs for wood doors we sell! If you see something you like, don't hesitate to call us Directly for a quote! (425) 771-9421.